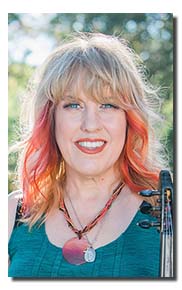 Victoria Hammill is a professional performing artist, musician, and songwriter, who is gifted with the natural ability to teach students of all ages — on the go ... in the home, workplace, studio, and live online.
With a rich experience in the arts, music, and sciences, Victoria reaches students of all ages. She honors all cultures and teaches with joy and enthusiasm. With a genuine desire to foster and inspire the growth of every individual, private instruction is taylored to fit each students goals and passion.
PROFESSIONAL EXPERIENCE
In the summer and fall of 2011, Victoria accepted contract positions with Mobile Music Academy (Austin, Tx), traveling to and teaching students in their home in Austin and the surrounding area, as well as with Danny Rays Music (Round Rock, Tx), teaching violin, piano, voice, and guitar. In addition, through word of mouth, she continues to add students to her roster.
From August 2011 to present, Victoria has taught 300+ students, ages ranging from 4 yrs to adult.
Victoria's experience also includes teaching piano, voice, and texas style fiddling classes to groups of children and adults at the Arlington, Texas community center, as well as students enrolled in undergraduate and graduate programs at the University of Wisconsin, Oshkosh, Wisconsin, and at Southern Methodist University, Dallas, Texas.
An eight week music workshop - The Melding of North and South America", as well as an "Electric Violin" workshop geared for advanced students is in the planning and development stage — target launch dates are for Fall 2024 and Spring 2025 semesters.
In addition, monthly small group ensembles for 5 to 8 students is NOW scheduled to start weekly on Saturday, September 3, 2022, from 5:30 pm to 6:30 pm at Round Rock Music School, 1151 Provident Lane, Suite A, Round Rock, Texas. (Visit workshops for more details.)
Click HERE to view Victoria's resume.
Return to Top
BIOGRAPHY
The Genes
Having grown up in an artistic environment, Victoria's background encompasses a rich supply of experience in the creative and performing arts. Her mother and father were fine arts education student graduates of Texas Weselyn College, Fort Worth. Affectionately known as the "artist couple", they both taught art professionally and were actively involved in community theatre and oratorio and church choir.
On her mother's side, Victoria's grandmother was well known professionally for her gifted voice in classical circles from her national touring days in vaudeville to live radio broadcasts to opera and choral work as a professional church soloist and voice builder for the Texas Boys Choir and the Texas Girls Choir; and her aunt, a talented actress who loved big band swing music of the 40's; were both early musical influences. Her mother's father studied medicine, drew illustrations for medical books, and designed beautiful custom gold leaf filigree jewelry in his store; and her great grandfather was a successful structural engineer, craftsman, virtuoso violinist and vocalist.
On her father's side, her grandfather and great uncle's were mechanically inclined with an inventive nature. Most of the men served in the U.S. military, and her grandma and great aunts, were Texas women - bright, youthful, spirited, and strong willed with determination.
Add it all up and what do you get? Fully loaded!
Early Beginnings
As a young child Victoria recalls having a very active creative imagination. Her mind had a constant inner dialog of stories, music, and color, and she created music props for imaginary instruments like the piano, and sang and danced. She loved to dance.
Often Victoria and her father took turns drawing pictures of animals; and an ample assortment of crayons, finger paints, tempra paints, water colors, brushes, colored pencils and pens, and large sheets of blank paper were always available for artistic expression.
Both her mother and father encouraged artistic expression. Drawing and painting was a regular activity, as well as making music.
School Days
At 8 yrs she taught herself how to play the piano and read the treble and bass clefs using a small two octave electric organ. At 10 yrs she began formal classical, suzuki, orchestral training with the violin and the voice in school, and at 15 yrs she learned to play guitar. Nearly every weekend, her family got together with another family and sang and played music.
She excelled in academics throughout grammar school, high school and college. Advanced mathematics, the natural sciences, creative writing, music, art, and world religions were her favorite subjects.
After high school graduation, she enrolled in the bachelor of fine arts music undergraduate program at college, took a few semesters of drawing and painting, and was then lured into geology by a required natural sciences plate tectonics class, and graduated with a B.S. Geology / Professional Emphasis (which included 3 semesters of calculus, 1 semester of statistics, 2 semesters of chemistry, 2 semesters of newtonian physics, and 1 semester of acoustic physics) at the University of Wisconsin, then obtained an M.S. Geophysics / Seismology at Southern Methodist University, Texas, her home state.
Career Days
Upon completing her graduate degree, Victoria worked in the oil industry as an exploration geophysicist (prospecting in the Willingston basin in the Rocky Mountains), and as a research geophysicist (using numerical modeling and microseismic monitoring techniques during hydraulic stimulation in developed West Texas fields to help increase oil production from depleted wells) for three years until the industry went bust, then one year as a geophysical consultant for the university creating 3D animations of global particle motion time series of near real time 3 component seismic data to analyze in 3D and writing scientific reports and publications.
Cornell University and the University of St. Louis (the most prestigious seismic school in the United States) approached her about obtaining a Ph. D. under fellowship at their graduate schools; however, choosing to stay in the private commercial sector, Victoria opted out of a lifetime commitment of research and development in academics, and returned to my soul roots of art and music, utilizing her technical skills and artistic talents to move into the performing arts and custom graphics web design and marketing.
"I love the creative process, and it is joy to perform and create with other artists - listening to and co-creating on the fly, working with the unique expression of each individual, complimenting and harmonizing, soloing freestyle, and expressing feeling through tone, melody, rhythm and lyric, that's what I love. The whole thang - it's all very healing for me and the little girl inside me - it brings out enthusiasm for life - its a gift - and it is so very beautiful when it is free-flowing and spontaneous and when the listeners, through their presence, are part of the process.

So, having a jam band that draws on blues, rock, rhythm and blues, and jazz fusion makes perfect sense due to the very nature and structure of these influences - it's "feeling" — it's "free-flowing" — it's "spontaneous" — it's "electric".

I am a native Texan - "Stevie Ray Vaughan" country - and I play violin gunslinger style - very high energy. So, as you may have already guessed, my unique signature and style has Stevie Ray and Hendrix influences, as well as other blues/rock greats like Albert King, John Lee Hooker, Muddy Waters, Roy Buchanan, Albert Collins, Buddy Guy, T-Bone Walker, and I am a big fan of rhythm and blues/rock/jazz greats like Jeff Beck, Carlos Santana, Janis Joplin, Sade, and Cassandra Wilson. I am also attracted to the music of John Lennon - his "sensitivity" and "honesty" and "depth" of his writing, and his incredible imagination, as well as Hendrix's colorful concrete style of writing that raises consciousness, and the healing words and feeling that Stevie Ray conveyed through his music that inspired many; and their fearlessness to experiment and incorporate new sounds and musical elements throughout their careers. And the artist/writer and the scientist/engineer side of me identifies with these attributes - having something to say through lyric, melody, rhythm, amplification, tone, effects, etc."
Prior to Nashville, Victoria performed with "The Brett Allen Jazz Trio" and with Edward T Hammill in the Dallas-Fort Worth Metroplex, Texas. When she moved from Texas to Nashville in 1998, Victoria performed at the "Nashville Unity Festival", at "Bean Central" on the West End, at "Legends in Columbia", and at "The Nashville City Limits". With the band, she performed at "The Clarksville Riverfest", "Bourbon Street Blues & Boogie Bar", "B.B. Kings Blues Club", "Bluesboro Rhythm & Blues Company, Inc., Nashville & Murfreesboro", "The Hard Rock Café", "Mercy Lounge", "Lipstick Lounge", "The 5 Spot", "The Boardwalk Cafe", and at "The Pond" and "Bunganut Pig" in Franklin". She also shared the stage with Shannon de Bayou, Don Kendrick, Patio Daddio, Brannon Lane, and Tom Larson (Delicious Blues Stew); James "Nick" Nixon (The Imperials), Mungo (Drummer for Bo Diddley), Waldo Weathers & The Mix (Sax player for James Brown & Charlie Pride), Steve Rossi (keyboardist for Peter Frampton), Dave McKenzie, and Miranda Louise, and Johnny Jones, to name a few.
Since relocating to the Austin area in 2007, Victoria has played in Fort Worth at "Stingray's Sports Cafe" and at "Key West"; in San Marcos at the "Cheatum Warehouse", "Cancun Rob's Fajita Hut", "Tantra Coffeehouse", and "Gold Crown Billiards"; in San Antonio at "Sam's Burger Joint", the "VFW", and "Make My Day"; in Austin at "Victory Grill", "Jovitas", "Momos", "Antone's", "Giddy Ups", "Sam's Town Point", "Nunos", "Hanovers", "Trophys Bar & Grill", and "The Ice House"; in Lakeway at "Carlos 'n Charlies" and "Detours Bar & Grill"; in Venture Point at "The Pier"; in Spicewood at "Poodies Hilltop Bar & Grill"; and has jammed with James Cotton (the one and only), Jackie Newhouse, Jimi Lee, J.J. Slyde, and many other notable Austin artists.
"I have been playing violin more than 18 years - 7 years of formal classical training, 2 years training of Texas Style Fiddling and 8+ years experience as a blues violinist with rock, rhythm and blues, and jazz influences."

"It is so exciting, so creatively stimulating, and "feeling". When I listen to Hendrix - I hear everything - blues, rock, jazz, classical, rhythm and blues, native american indian - I hear the classical influence in his composition of original music - "Electric Ladyland" is a "symphonic masterpiece" ... especially the "Rainy Days, Dream Away", "1983 ... (A Merman I Should Be)", "Moon, Turn the Tides ... gently, gently, gently" and "Still Raining. Still Dreaming" suite. I love it!